Dig Safe Manitoba, Canada!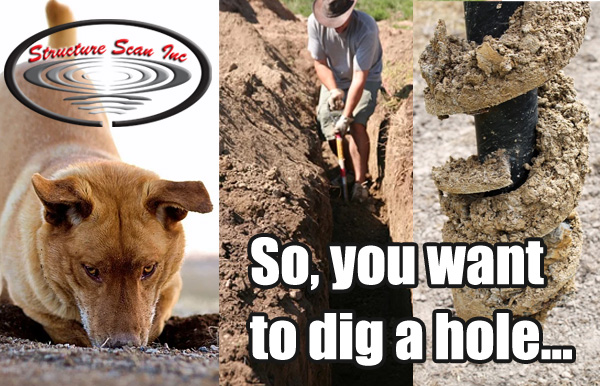 ... but where do you start?
Spring has sprung, and a lot of us are raring to get construction projects on the move. Since dogs have been burying bones, we've been burying wires, conduits, and pipes with electricity, gas, water, sewer, communication and more. Every year our underground becomes increasingly congested. After all, who wants to look at wires and pipes hanging in the air in front of your house?
Putting in a garden, pool, fence, deck, Goya pond, bunker, you name it, if you disturb the ground it is YOUR responsibility to ensure there are no buried utilities in your work area. The phrase "Dig Safe" matters. To skip requesting locate services puts the onus on you if you damage a utility, or worse, cause injury.
Who do you call?
Manitoba does NOT have a FREE one-call utility service that includes ALL service providers. While the ClickBeforeYouDigMB program is a good start, it is voluntary and does not include All publicly owned service providers or Any privately owned utilities. Once you place your locate request, participating utility owners will come out and locate Their property. If that service extends anywhere else on your property it is no longer their responsibility, it's yours. For example, if you have services to a hot tub, detached garage, outbuildings, etc., these services are considered to be privately owned utilities and you'll need to hire a private locating service (such as Structure Scan) to identify where they are.
For over twenty years, we've been showing businesses and residents there is more under your feet than you think. We can help you whether it's public or privately owned utilities. Call or request your locate request online https://www.mb1call.com/
Coloured flags represent these utilities:

The following is a partial list of public utilities in Manitoba:
Bell Canada
Centoba Oils Ltd.
Centra Transmission Holdings Inc.
City of Winnipeg Fibre Optics
City of Winnipeg Fibre Survey Bars
City of Winnipeg Fibre Traffic Signals
City of Winnipeg Fibre Underground Structures
City of Winnipeg Fibre Water and Waste
CN Railway Signals
CommStream
Daly Irrigation
Enbridge Pipelines Inc
Enerplus Oil and Gas Ltd.
Eog Resources Inc
Esso Imperial Oil
Fiber.ca
Gillam Cable and Television
Gladstone Co-op
GWWD Railway Signals
High Speed Crow
Interlake Communications Co-op Ltd.
Kiwi Resources Ltd.
Manitoba Hydro in Winnipeg / Rural
MTS Allstream in Winnipeg
NCN Achimowin CommunicationsPembina Trails School Division
RFNow Utilities
Rogers Communications
Shaw Cable
Shell Canada Products
Sittco Utilities: Churchill,Flin Flon, Snow Lake, The Pas, Thompson
Spectra Energy
St James Assiniboia School Division
Swan Valley Gas Go-op
Telus
TeraSpan Fiber Optics Winnipeg
TeraSpan Fiber Optics Rural
Transcanada Pipelines
Tundra Oil and Gas
Valley Cable Vision Ltd.
Westman Communications Group